Another splended and helpful page from dodge50.co.uk
Fuel Lift Pump
The fuel lift pump is located on the right hand side of the engine below the exhaust manifold.

To clean the gauze filter (B) release the setscrew on the domed cover and remove the cover. The gauze filter can then be lifted out and wiped clean using a lintless cloth.

Clean out the sediment chamber ensuring dirt does not enter the interior of the pump.

Ensure that the gasket (A) is in good condition and renew if necessary. Also ensure that an airtight joint is made between the domed cover and pump body.
Vent the system of air.

Final Fuel Filter Element - To Renew
The filter is located to the rear of the engine. Access to the unit is made by removing the rear engine cover.

The element cannot be cleaned but should be renewed at the recommended periods.

1) Place a protective cover over the starter motor to protect it from any spilt fuel.

2) Clean the exterior of the fuel filter assembly.

3) Unscrew the centre bolt securing the filter bowl to the top cover.

4) Drop the filter bowl clear and discard the filter element.

CAUTION. Do not allow fuel to drip on to sound insulation material.

5) Clean the bowl with paraffin or fuel oil.

6) Renew the 'O' ring located in the filter head and the upper and lower sealing rings.

7) Place the bowl on the base of the new filter element and offer up the assembly squarely to the filter head so that the top rim of the element is centrally located against the sealing ring in the filter head.

8) Hold the assembly in this position and locate and tighten the securing joint.

9) Prime the fuel system as described in this section.

10) Remove the protective cover from the starter motor.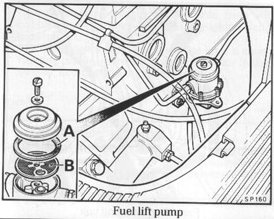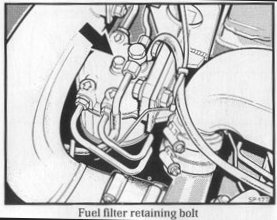 © Dodge50.co.uk™ 2002