Site information can be found below this section.

---
IDENTIFY YOUR VEHICLE
All information below relates to the 50 series and does not include any RB44 information.
Before you try to identify your vehicle, here is a quick roundup of some of the options on offer when a new vehicle was ordered.
Firstly there were around 15000 permutations when all option / SEO's (special equipment options) are taken into account, ranging from a heavy duty alternator to rear door glass to a strengthened chassis for tipper bodies, there were SEO's for fleet vehicles like the GPO, British Gas, the MOD, Bus body builders.
Now what a lot of people don't know is that the only vehicles made on the production line at Dunstable were chassis cabs, high capacity vans and DAFE vehicles (Drive Away Front Ends, for conversion to buses, campers, delivery vehicles etc) all bodies apart from the vans were fitted off site by specialists.

Each vehicle was given its own specification build sheet unlike most other vehicles, even fleet ordered vehicles, this meant that adding a SEO to any vehicle was much easier, so if a bus for Leeds City Council needed an extra long chassis or different gearbox or whatever it was just ordered via SEO operations.
The vehicle you have may be as original as it can be or could be totally different, even having different engine, brake system, body, anything.
Some of the 1000's of the SEO's include, mud flaps, extra batteries, tinted glass, bigger door mirrors, PSV bus packages, 4x4 conversion, 12 different tyre options, paint work, fuel heater, 24 volt systems, gauges, chassis length extension / shortening, extra electrical equipment, PTO drives, oil coolers, uprated / downrated capacity, stickers / branding, drivers comfort pack, power steering, heavy duty road springs, translucent roof, radio, tachograph, auto gearbox and the list goes on and on for a few pages.
What have you got?
So have you a Mk1? or a Mk2? a S35 or a S66?
Well the best place to start is to identify your vehicle.

Mk1 have round headlights and Mk 2 have Square. Mostly!

First find your VIN (Vehicle Identification Number) Applies to Civilian Vehicles only
Please note, vehicles with chassis numbers starting 1900> are pre Launch vehicles produced for Promotion and Stock between March 1979 and July !979 for Launch July 1979 and have a different VIN description which is to be added soon.
Might look a bit like this SDFB75KOCED 211633, this is from my Mk 1 1984 S75 Van Big Vern. It's original order / build sheet is here in the chassis archive, yours might be too!!
Look at the Vin number, found on the log book (V5) or on the vin plate usually by the drivers side step (buses might be near the passenger door) and the chassis serial number is like 'The 211633' as above, found stamped on the chassis behind the drivers side front wheel.
The Vin Plate will look something like this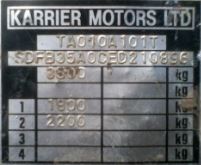 this is from my 1984 S35 Luton Boxed Dodge 50 Bertie and is badged as Karrier Motors, yours might be Chrysler if a 1979 model, Talbot if 80/81 Karrier 82/84 and Renault Trucks 1985 >
This is because of the convoluted sale and purchase of the Chrysler / Dodge UK truck making concern which involved Peugeot in 1980/1.

Below is a description of how to 'read' your vehicles VIN.
The example is from Big Vern the vehicle that spawned this web site.
SDF B75 K O C ED 211633
SDF or SDB or SDG is the vehicles makers world identity mark.
B75 is the model type ie: B75 = 7,500kgs it could be B35 / B46 / B56 / B66 / B75
K or A is the body type, A = Chassis Cab, K = Van
0 or numeric. 0 = standard plating, numeric = special plating.
C is the engine type, C = perkins 4.236 4 cylinder 3880cc diesel , B=6 cylinder chrysler 3500cc petrol , D= perkins 6.247 6 cylinder diesel E= perkins T38 4 cylinder 3800cc diesel turbo, F = Perkins Phaser 90 4 cylinder 3990cc diesel, G = Perkins Phaser 110 4 cylinder 3990cc turbo diesel.
E is the year of build, E = 1984, A = 79/80, B = 80/81, C = 81/82, D = 82/83, E = 83/84, F = 84/85, G = 85/86, H = 86/87, J = 87/88, K = 88/89, L = 89/90, M = 90/91, N = 91/92 AND P = 92.
D is the build plant, D = Dunstable UK (Originally Karrier Motors Plant).
211633 is the vehicle chassis number. (Mk1)
Chassis Numbers.
190001 to 190999 are Mk1 Pre Release vehicles for promotion & Stock
(01/03/79 to 30/07/79 these vehicles have a different VIN arrangement.
201001 to 218223 are Mk 1 1st July 1979 to 24th August 1987
219001 to 205999 are Mk 2 1st September 1987 to 30th Nov 1992
(Note) 219001 > 219005 were pre production vehicles built between May 1987 and August 1987)
The RB44 vehicles are a different kettle of fish, of which only 846 were ever made, they have a different VIN type but all use the same basic parts, so no special VIN or build sheet was needed for part sourcing or vehicle descriptions.
Knowing how to read the VIN can help when ordering parts for your vehicle.
More info on vehicle identification here which includes different vehicle fitting codes giving axle type, ratio's and other special fittings which are shown on the build sheets, it is a bit like a jigsaw puzzle, I have now spent over 16 years trying to work them all out and with over 15000 model variations due to the extensive SEO (Special Equipment Options) there is hardly one vehicle alike, they are pretty much all unique, how many vehicles do you know that were mass produced and still all unique.
The Dodge 50 series 1979-92 the best LGV ever built (In my opinion)
---
Finding your way around the site.
Once you have sorted out in your head what vehicle you actually have it will make life for you a little bit easier, if you are looking for brake information and you have a Mk 1 dodge 50 go to the workshop index page, click the brakes section link, click the Mk1 brakes link. this index page gives you a list of the workshop sections for your vehicle, click the link to the section you need to look at and copy the images and text if you need to and print it out. You will notice there are quite a few different types of brakes for example, if you are getting confused, remember you can get in touch and ask me, remember to have your VIN to hand :)
If you need general help getting to know your vehicle go to the drivers handbook section, click service index, then handbook index and take a look through the sections, general cab and vehicle maintained, fan / pas belt tensioning etc.
The Brochure index has links to colour and black and white brochures which have pictures and information / specifications on the 50 series various ages and models covered.
The service section covers general service information, the workshop manual section comes direct from the official WSM 3005 Chrysler / Talbot / Karrier / Dodge / Renault workshop manual, here you can find out the correct tyre pressures, lubricant types and amounts, fuel priming, engine fault finding, wiring diagrams and a whole lot more.
The Picture Gallery has hundreds of photos of dodge 50's & RB44's in all different guises.
Now, when you get a bit stuck, as there are still some old dodgy links left around the site, (for example to the old message board, you will see this is not used anymore and you need to go to the forum instead.) you might need to use your back button on your browser rather than a link on the page, it might take you to an old....old...index page for example, these old pages are still lurking on the server and I would rather keep them than ditch them.
I have tried to make the site as accessible as possible but I know with 700+ pages and 25000 images, build sheets and more you can get lost, most pages should have a link back to the homepage, some might be to another index page, good luck.
Lastly if you need more help, go to The Forum and join the 2400+ members who have joined over the years, there are still some around, leave a message in the technical section, wanted section or find the handy numbers section for help sourcing parts, take a look and see what's going on in the world of dodge50.co.uk
We also have a Facebook owners group too which is here and the official dodge50.co.uk page
Thanks for using dodge50.co.uk .
Greg.
Site Owner.
Dec 1st 2005
Updated Jan 2018
DISINFORMATION: This web site and the Forum have been knocked together with 2 bricks and a rubber chicken for your delight and We hope you all enjoy the fine discussions we have on the wonderful dodge50 series of vehicles, all information is either gleaned from the official 50 series workshop manuals OR posted by members of the community.

DATINFORMATION: dodge50.co.uk takes no responsibility for any mistakes or advice given, it's up to you if you take it or not, remember, All material is copyright dodge50.co.uk 2002-2018 unless it's someone else's and it has been begged, borrowed or made up.
DISCLAIMER: Any libel or mistakes in messages that are written by members of the community, inc the admin's and owner of this site www.dodge50.co.uk and http://dodge50.aimoo.com takes no responsibility for them, you need to contact the author and have a moan / send a writ / agree. (delete as you see fit) Blah Blah Blah Blah Blah Blah.......Etc.......Etc...........
© Dodge50.co.uk™ 2002-2021