Links are in yellow or click the diagram images
A Wiring Diagram for Mk 1 Dodge 50's 1979-1987 is below the Mk2 diagram .
(First put online in 2002, below is how we used to do things before 4g and BB, slow painful and stressful, now you just click the image and hey presto it is there)
NEW The 18 fuse 12v system fitted from July 1990 and RB44s
Click image below for full size wiring diagram.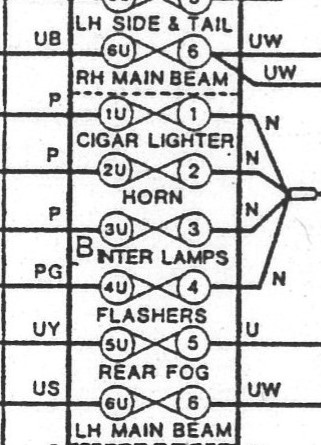 For Mk Two Dodge 50's starting with chassis number 219001 12 fuse 12volt
Whole Diagram For Dodge50 Series PDF 900Kb File and The Whole Thing is to big to see in one go but you can set the Acrobat Reader print settings to "Shrink oversized pages to fit paper" and print a small copy of it or......if you have an A3 printer you are ready to go or................
............ try downloading it in 4 parts, printing them and sticking them together with that stuff called sellotape.............Good Luck.
Part 1 290Kb (full size download below)
Part 2 230 Kb
Part 3 275 Kb
Part 4 270 Kb
Right click to save target as /download / or
If you left click to view online it may take some time
and look like nothings happening but if there is a little
hardrive icon with a red arrow in the bottom left corner
of your brouser then it's a coming.
All above are in PDF format and need
Acrobat reader 4 and above to read and print.
Remember to set the print mode to the "Expand small pages to paper size" or you will get a thumbnail picture the size of a stamp.
All files were processed through Photoshop. The size of the files represents the depth of the scanning so all the little letters and lines could be seen.
This has been a long and arduous learning curve putting this lot together so you all owe me a pint or.............................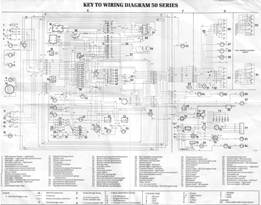 Mark two only
Click Image to get the Big One
---
Mark one Dodge 50 wiring diagram below
Click on the image for a PDF of diagrame or below
The image is high resolution so you need to right click and save image as to desktop, then open image up by double clicking it and then you can scroll the size larger / print to A4 size.
If you print it out at A4 size it looks good
Wiring color codes below FOR MARK ONE ONLY
R=RED
Y=YELLOW
G=GREEN
U=BLUE
N=BROWN
P=PURPLE
W=WHITE
S=SLATE
B=BLACK
K=PINK
LG=LIGHT GREEN
O=ORANGE